What Does Your Scooter Color Say About You?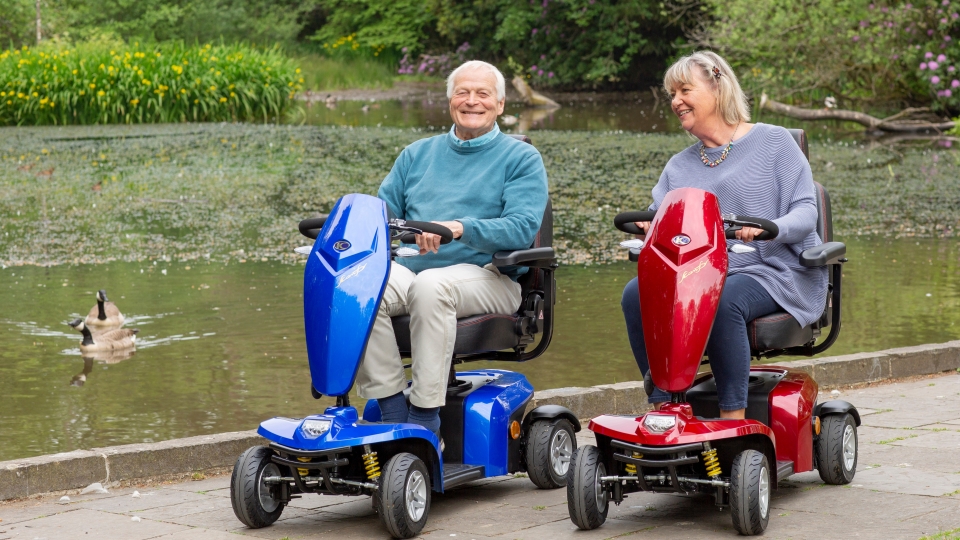 Scooters
26 March 2021
What Does Your Scooter Color Say About You?
KymcoKymco Agility Scooters Solax Charge Kymco Maxer
What Does Your Scooter Color Say About You?
Colours are often used to define feelings and emotions. In business, colours are highly utilised in branding as it aids in building trust and familiarity among their customers. We listed down the most common colours of the best mobility equipment available in the market to help you decide. Does your colour choice reflect your personality?
Red - Powerful and commanding
If you want to feel powerful and you're the type that exudes a commanding presence, red is the perfect fit for you. In colour psychology, red is excitement, and it is commonly associated with strong emotions like love. In Chinese culture, red is the colour that symbolises luck and prosperity. So if you want your mobility aid to evoke a vibrant and exciting feel, choose the colour red.
Scooter Suggestion: Kymco Agility
Blue - Confident and trustworthy
If you're the type who wants to be seen as someone confident, choose the colour blue. Aside from being the colour of trust, blue also signifies dependability and strength. It also inspires the feeling of loyalty, integrity and responsibility. Blue is also the shade of the sea and sky, and it has a cooling and calming effect on the eyes. This colour also conveys peace and tranquillity.
Scooter Suggestion: Luggie Elite
Yellow - Fresh and joyful
When you want to be seen as someone joyful and everyone considers you as a ray of sunshine, yellow matches well with your personality. This compelling colour projects fresh energy and youthfulness, making it the perfect choice for the young-at-heart! In a survey conducted in select countries in Europe, the United States and Canada, it is said that people usually associate yellow with amusement and spontaneity.
Scooter Suggestion: Solax Charge
White - Clean and pristine
If you like something that looks clean and untainted or you just want to go back to basics, the colour white suits you best. White is pristine, and it symbolises cleanliness. It also stands for purity and innocence. Another good thing about white is it goes well when paired with other colours. In most cultures, this colour represents everything good and right. Frankly, if you want to keep it simple, you'll never go wrong with white.
Scooter Suggestion: Kymco Mini Comfort
Black - Sleek and mysterious
In some cultures, black is bad as it is the opposite of white, representing good and right. However, black is simply the absence of colour. Suppose you like something that conveys mystery, elegance and sophistication; black the perfect colour for you. It will also help you stand out as black gives contrast, making other colours more visible to the eyes.
Scooter Suggestion: Kymco Maxer
Grey - Neutral and low-key
For those who want to keep themselves neutral and low-key, grey is the colour that fits you well. It's a toss between black and white and is considered the colour of security, reliability, modesty, maturity and independence.
Scooter Suggestion: Quingo Toura 2
Can you relate to the above? Of course, colour is only just the tip of the iceberg. Just picture yourself on your scooter of choice while going places, experiencing freedom and having the time of your life. Find out more about all the different types of mobility equipment available and how they can assist you in your quest to reclaim your independence. Visit www.motobility.com.au

Custom Bed Quote

Repayment Calculator

Get in touch
For any online enquiries please don't hesitate to get in touch via the web form below, or email us directly. For any urgent matters, please contact us directly on 08 9242 7333

Subscribe to our latest blogs!
