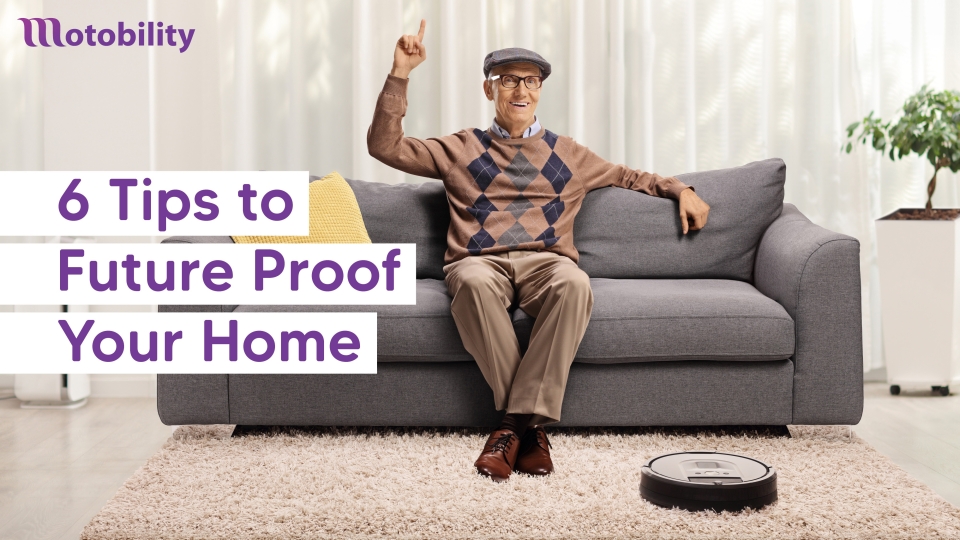 Latest News
18 February 2021
Six Tips to Future Proof Your Home

Top 6 Tips to Future Proof Your Home
Home is where we feel safest and relaxed. However, not all homes are as comfortable and safe as they can be. Many things impact mobility; however, the most common factors are old age and other medical conditions that decrease mobility. Most of us have seen or experienced the struggles that reduced mobility can bring. You can still live a full and active life, all that changes is that you may need a little bit of help here and there to do this. As one of our dear customers said to us "Don't think disability, think freedom"! To make life easier, here are some tips that may help you plan some significant home changes.
No to tripping hazards
Tripping hazards at home can be dangerous to everyone, especially when combined with reduced balance and mobility. Falling may cause severe bodily harm and in some cases may result in lengthy hospital stays or even death. However, what we see most at Motobility is how a fall can affect a person's confidence, even to the point where they decline to part-take in activities they previously enjoy out of fear of another fall. This can lead to isolation and depression and should be avoided at all costs. Preventing and minimising these hazards is not as complicated as you may think. The first step is to declutter and move furniture around to give way to wider pathways. Second, organise cords, remove rugs and other items that may cause people to trip.
Wider pathways mean more room for general movement and mobility aids. For even better stability, you might want to invest in a walking aid. There are many different products available on the market, suitable for different needs and lifestyle. Including adjustable rollators such as the Tallboy Rollator or you may opt for a simple walking stick
Install ramps, handles and rails
Having ramps handles and grab rails at home can make a world of difference to your safety, especially when trying to navigate obstacles or wet areas. Installing these can dramatically reduce the risk of falls. Adding some ramps to overcome one or two steps will also allow the use of mobility equipment such as gophers, powerchairs or rollators inside the home and access your home safely.
Let there be light
Another factor that can often contribute to trips and falls is poor lighting. Now that you have wider pathways, you might as well have them well lit. Install adequate lighting to your hallways, rooms and stairs. You may want to consider motion-sensor lights that will help keep portions of your household bright at all times.
Level up your stairs
Stairs are ubiquitous and can be found in many Australian homes. This simple architectural wonder has made lives easier since time immemorial. However, as we age, they can become a real obstacle and even a hazard. An easy and cost-effective way to minimise risks associated with stairs is to install stairlifts or platform lifts.
Whether you have narrow, straight or curved stairs, there's a stairlift that suits your home and your needs. You can find out more about the different lift solutions here.
Invest in easy-to-use appliances
Independence is key! We all want to be independent, and this doesn't change due to age or disability. Focus on the things that you can do, instead of what you can't. These days there are many products available to make everyday tasks easy and adaptive. These products start from adaptive, self-balancing kettles and re-designed cutlery to state of the art smart appliances that can be controlled by voice or mobile app. You might want to keep this in mind for your next home renovation.
Comfort is key
Think about the amount of time you spend in your home, whether it is watching television, sleeping, cooking or entertaining. Now think about the tasks that cause you difficulty or discomfort. Chances are there is a product out there to help you perform a job more manageable and in more comfort. Some examples include:
Getting in/out of a lounge chair. Armchairs are often made to be lower and deeper than dining chairs, which requires us to put additional strain on our knees, wrists and shoulders when sitting down or standing up. This is where a lift and recline chair comes in. These chairs have many different names, such as "rising chair" "lifter chair" and more. Still, the basic functionality is the same; the chair lifts from the back, bringing you to a perched position where your hips are placed above your knees, removing the strain in standing up. If you are using a walking aid, ensure this is always within reach when lifting, to allow you to hold on to something as you exit your chair. Finding a comfortable chair can sometimes be a challenge. That's why we stock a variety of different recliners, including chairs with electric lumbar support and extra high leg-lift functions.

Getting a good nights sleep
Sleep is so important for our mental and physical well being. There is a reason that sleep deprivation is a type of torture. Many times, the same ailments that decrease mobility can also impact comfort levels when in bed. In some cases, a right mattress can be the answer. However, an adjustable bed can relieve many pains and aches by removing pressure and correctly supporting your body. Many people don't know that having an adjustable bed can also greatly help get in/out of bed. To find out more about this, click here.

Custom Bed Quote

Repayment Calculator

Get in touch
For any online enquiries please don't hesitate to get in touch via the web form below, or email us directly. For any urgent matters, please contact us directly on 08 9242 7333

Subscribe to our latest blogs!
