Keep Out the Sun & Rain with the ScooterPac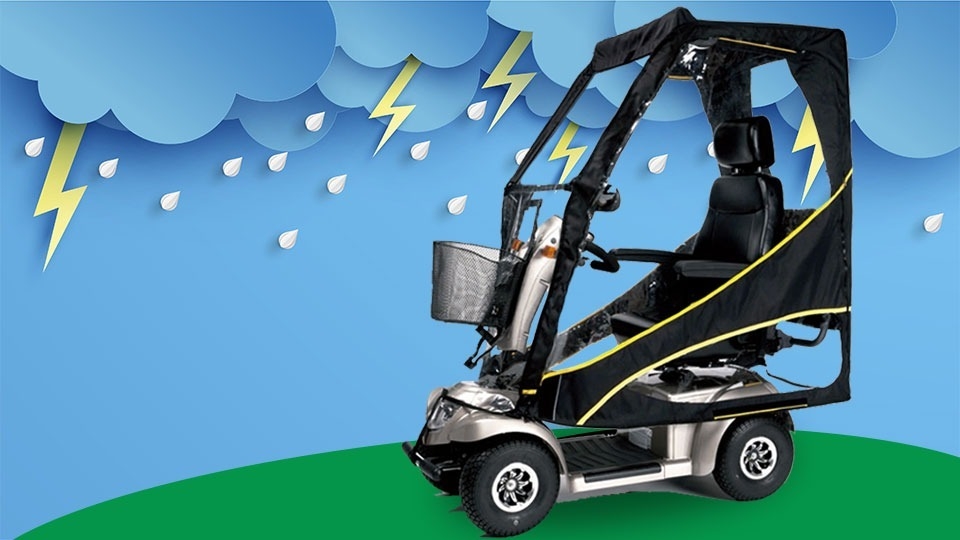 Scooters
22 January 2020
Keep Out the Sun & Rain with the ScooterPac
If you rely on using your mobility scooter to get around your local community, to the shops, or even to your friend's house down the road, then you'll be familiar with what happens during winter… rain and lots of it! Having plenty of rain when we live in WA is always needed, but it can be a huge inconvenience when getting out and about in your new mobility scooter.
A Test Drive in the
Rain
Just the other day we took our scooter out for a test drive and packed an umbrella to test it out. Part way to the train station the umbrella snapped in half and we arrived back to our office cranky and completely drenched! We learned a valuable lesson that day, no matter how tough your umbrella is, it's no match for the winds of Perth. The other challenge we faced was trying to drive the scooter and hold the umbrella at the same time. Constantly switching hands because your arms get tired becomes uncomfortable very quickly and to be honest, the whole experience was pretty dangerous as well.
There is however, an option that ticks all the boxes for keeping you safe and dry as you cruise the streets of Perth in your scooter and it's name is… the ScooterPac. The Scooterpac is the first and only universal folding canopy in the world and it fits just about any scooter. The design of the ScooterPac allows you to fold the pac up at the back end of your scooter when you're not using it. When the rain comes or if the sun becomes to much, you simply set it up in seconds and off you go.
Made From High Quality Materials
This pack is made from specialised high-quality materials including super durable polymer sides, a high clarity windscreen and airplane grade aluminium which means you can take it anywhere, anytime. The ScooterPac will fit almost any scooter out there with its universal fittings. You simply attached it behind your scooters seat where you'd normally place your rear sh opping bag, beneath the armrests and then it just Velcro's shut at the front end of your scooter. The best part is that you can quickly and easily zip and unzip the sides of the Pac, which keeps condensation from building inside, keeps you from sweating and lets air flow through. You can even unzip your window down part way when you reach your favourite coffee shop or news agent, to place your order. This means you can pay and get your coffee straight into your hand, all without even needing to get out. What could be easier right? Convenient, dry, warm and it looks great too! All of your friends will want one.
For further details on the ScooterPac, feel free to call us anytime here at Motobility on 9242 7333. Not sure if the Pac will fit your scooter? We offer free in home demonstrations and can bring one to your home to see and try at no obligation. Click here to learn more.
ScooterPac Info

Max Windspeed: 60mph winds
Folded Size: W630 x H830 x D180 mm
Open Length: 1150mm
Open Width: 600mm
Open Height: 1200mm
Headroom*: 1000mm
Frame Material: Powder Coated Aluminium
Canopy Material: Waterproof Nylon
Window Material: Perspex
Cover Material: Waterproof Nylon
Custom Bed Quote

Repayment Calculator

Get in touch
For any online enquiries please don't hesitate to get in touch via the web form below, or email us directly. For any urgent matters, please contact us directly on 08 9242 7333

Subscribe to our latest blogs!
