Get a Sneak Peek at our Black Friday Deals!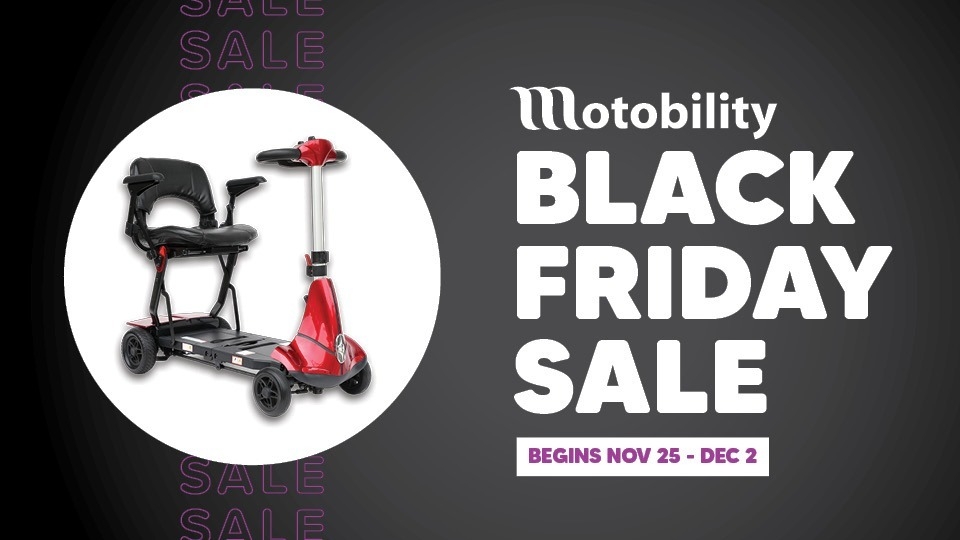 Latest News
24 November 2020
Get a Sneak Peek at our Black Friday Deals!
What's The Best Motobility Black Friday Deal For You?
The Black Friday Sale week is here, and that only means one thing - HOT DEALS! And of course, Motobility won't let this shopping frenzy pass by. We are joining the bandwagon with our very own Motobility Black Friday Sale! You can take advantage of savings up to $1,300 on selected items starting November 25, 2020 until December 2, 2020. Want to know which items are coming with a discounted price tag on the 25th? Here they are:
Tallboy Walker - Down from $195 to $140
You'll save $55 on the Tallboy Walker exclusively at the Motobility Black Friday Sale. It comes with adjustable handles and seat height. This classic design is well suited to short, average and tall people alike. Featuring a handy under-seat basket and padded seat make the Tallboy extremely versatile and comfortable. With the ability to fold up for storage and weighing just 6.4kg, this model is ideal for transport.
Solax Carry Case - Down from $590 to $450
Just like any suitcase, it has four caster-style wheels and only weighs 8.9kg making it convenient to wheel around. The Solax Carry Case protects your scooter while on the move, and features two inbuilt number combination locks for added security! It is compatible with the Transformer, Mobie, Genie Plus, Maleta and Charge Solax models. This deal does not just guarantee you quality and savings, but also gives you peace of mind!

Solax Mobie Plus - Down from $3,900 to $2,800
The Solax Mobie Plus can now be your travel companion for just $2,800 with $1,100 slashed off its price tag. This easy to use foldable travel scooter is a convenient and reliable mobility solution that is ideal for vacations, holidays or even just a stroll in the park. You'll definitely enjoy the comfort of the Solax Mobie Plus as it comes with the multi-grip delta handlebars, easy to use speed adjustment dial, light up battery bar, padded seat, removable armrests and an adjustable tiller. Another great feature that sets the Mobie apart from other Solax Travel-Scooter is the in-built compartment that allows you to carry a spare battery on-board.

Kymco Super 8 - Down from $4,200 to $2,900
You can save $1,300 on the Kymco Super 8 during the Motobility Black Friday Sale. This budget-friendly all-rounder will be your reliable daily companion when commuting and running errands. For those on the hunt for a scooter that is not too small or bulky, the Kymco Super 8 is the ideal choice for you. This scooter presents the attractive middle ground between both worlds. It comes standard with a removable front basket for smaller shopping items, rear-view mirrors and high-low-speed selection.
The Motobility Black Friday sale begins on Wednesday, November 25, 2020 and runs until December 2, 2020. Give us a call on 9242 7333 to find out more on these deals!

Custom Bed Quote

Repayment Calculator

Get in touch
For any online enquiries please don't hesitate to get in touch via the web form below, or email us directly. For any urgent matters, please contact us directly on 08 9242 7333

Subscribe to our latest blogs!
