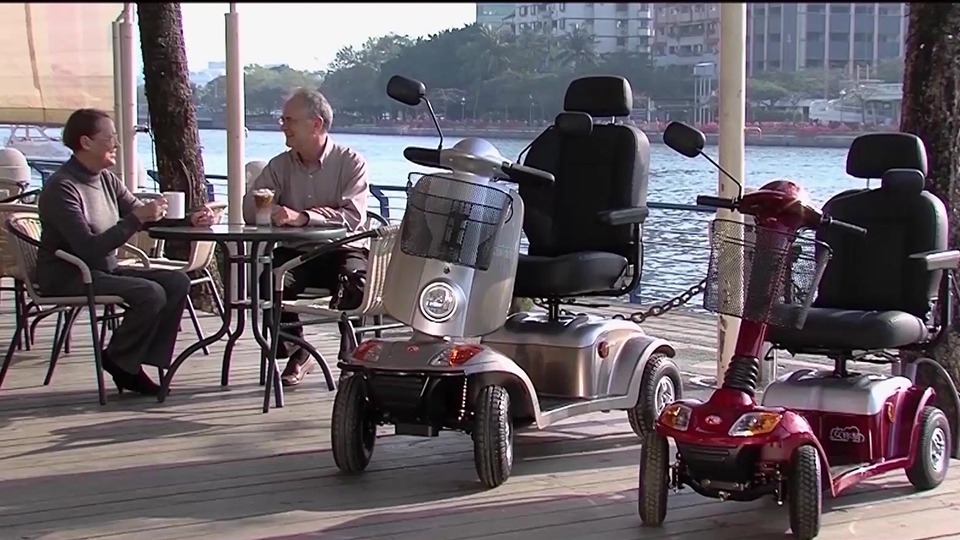 Scooters
28 October 2019
A life without a drivers license
Scooters
How to get around if you lose your license over 80?
If you weren't already aware, in WA when you reach 80, you're required to undertake a medical assessment to maintain your drivers' licence. If you are not approved, your license may be refused. So the question is, how do you get around now? The bus stop and train station are too far to walk to (or nowhere near when you live), and your family aren't close enough to take you where you need to go every time you need to get out of the house. You are stuck for life!!
Ok, take a breather first of all. Lucky for you, it's 2019, and there are other options that you may not be aware of. Luckily there are many options in Australia that will allow you to maintain your independence and freedom that doesn't rely on a drivers license.
Ride Share
Ever heard of a little company called Uber? Uber offers an option called Uber Assist. Uber Assist is certified drivers who provide special assistance to riders who need extra help, such as the elderly and those with disabilities. The rides are private and hold 1-4 people; the drivers provide "at your front door" assistance including getting you in and out of the car AND, best yet, the price is the same as an Uber X (regular uber fair). Uber Assist is available in every major city in Australian and an extensive range of rural areas as well. You can get Uber with a simple app download onto your phone. Check out their site here for more details.
Don't like Uber? Check out Sheebah, an all-female service all women drivers and passengers, you can even take your pet.
Electric Mobility Scooters
So, what's the next best thing after a car? A mobility-scooter! You may not know it, but gophers are a very popular replacement for cars. We have a wide range of Mobility Scooters available, including portable self-folding travel scooters. Yes, you heard me, you hit a button, and they fold themselves up like a transformer. Some weigh as little as 25kg (battery and all) and easily fit into the boot of a car. A perfect option if you are using Uber Assist. To find out more about our Travel Scooters click here.
The Kymco Mini Comfort is just 54cm wide, perfect for squeezing between aisles at the shops. The SupaScoota 200 can hold up to 200kg and still gives you the flexibility of transporting it in the boot of a car!!
If you are looking at a larger option, have a look at our Medium and Large Mobility Scooters. The best-selling Kymco Super 8 is a great all-rounder at an affordable price, while the Kymco Maxer offers the ultimate in technology and driving comfort. The Quingo range of gophers come equipped with a patented 5-wheel driving technology, for a safer and more versatile machine.
All in all, we like to think that we have the right scooter for your needs, budget and taste! We even offer free in-home test rides without any obligations to buy or hard sales pitch. Simply an opportunity to trial the machine in the environment you will be using it in. To find out more about free in-home demonstrations click here.
New-Age Public Transport
And lastly, public transport. I can hear your eyes roll. Yes, you've always hated it, it smells, the people are noisy, you have to walk in the hot sun and rain, you've never liked it. But let me ask you something? When was the last time you took a bus or the train? Maybe five years ago? 10, 20? I said it before and I'll say it again, it's 2019, a LOT has changed. Today's services are vastly improved from several years ago.
Offering more services, higher frequency, easy tap on, tap off payment systems, spacious carriages with ample priority seating. For added security, there are guards at certain times of the day and night, and guess what? It's all free. In Perth, you get free access to all Transperth services as long as you have a Seniors, Pensioners or Veterans SmartRider card. How good is that?
TIP: Skip the long walk to the train station and drive your scooter there, chain it in the bicycle lock-up area or take it on the train into the city with you. Don't forget; You can take most scooters and powerchairs on trains in Perth. Buses have slightly different regulations and space limitations, we recommend powerchairs and electric wheelchairs fo the use on busses around Perth.
See the Brightside
So at least you'll now be saving money on insurance and fuel, and you'll be getting a little more needed exercise. Your public transport is free. Your new scooter is SO fun to use. There are many accessories, to ensure you can use your mobility-scooter in a range of different conditions, such as a sun canopy and even all-weather covers.
You may have friends in the same situation who would be happy to catch up mid-way point on a train line at a new café, or you can always start hounding your children to come to get you, besides, you made them, they owe you right?
Happy travels.
Custom Bed Quote

Repayment Calculator

Get in touch
For any online enquiries please don't hesitate to get in touch via the web form below, or email us directly. For any urgent matters, please contact us directly on 08 9242 7333

Subscribe to our latest blogs!
