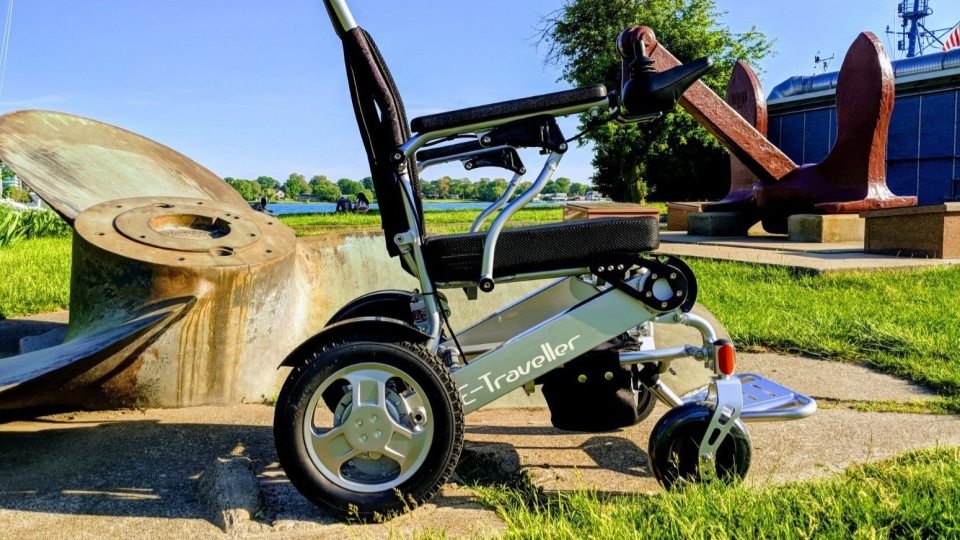 Powerchairs
26 October 2020
What's the difference between Front, Mid and Rear Wheel Drive?
When it comes to a powerchair or electric wheelchair, the number of options out there are endless. With so many rear, mid and front wheel drive chairs, it's impossible to know which is best and why. So what is the difference between the drive wheel location? Does it affect a chairs performance, and which is best for you?
Rear Wheel Drive
Because the rear wheels on most mobility products are generally the biggest, this means they have the largest turning wheel circumference and can be more difficult to turn in tight spaces. For this reason, a rear wheel drive product would be fine for outdoor use, but possibly not the best choice for use inside the home with tight spaces and narrow doorways. Having larger rear tires, this means a chair is more susceptible to tipping; however, most wheelchairs have anti-tips on the back for added safety. When driving up a steep hill, the chair can lean back on its anti-tips if need be, to prevent from falling over. At higher speeds however, a rear wheel drive chair is actually more stable due to the majority of the user's weight being directly above the drive wheels. You can also fit suspension or shock absorbers onto all four wheels and larger front castors can be used, creating for a smoother ride as compared to front and mid wheel drives.
WHO IS A REAR WHEEL DRIVE CHAIR BEST FOR?
Outdoor use such as at the shops, sidewalks, parks, etc
Anyone needing maximum stability for high speeds
International and interstate travel where the user will be on uneven outdoor terrain
If you'd like to see our chairs with rear wheel drive, these include the E-Traveller 180 Flex, 180 Ergo, 120 & Safari Sport. The KS1 & Kmini can both change from front to rear wheel drive. Click here to view.
Mid Wheel Drive
When the drive wheels are located in the middle of a powerchair, this offers the smallest possible turning circle, which means the chair has the tightest turning circumference. This makes a mid wheel drive the best option for indoor use, leaving maneuvering around a home or through tight spaces a breeze. As the drive is under the users head, this also means that the drive experience is intuitive. For anyone with cognitive impairment, this type of drive would likely be best.
Mid drives are also the most stable and the least likely to tip, due to having front and back castors that prevent the chair from tipping over forward or backwards. It also means that the chairs center of gravity is perfectly even, due to being located in the middle of the chair instead of forward or backward. Mid-drive is more sensitive to changes in direction at high speeds. If you want to turn quickly, it has the ability to do so.
Some disadvantages to having a mid wheel drive chair, however, include the possibility of getting stuck and being suspended between the front and back castors. This happens on soft surfaces like sand. Once you drive tires are stuck, you lose traction and can't move. Another disadvantage is that having 6 points of contact means there are 6 points touching the ground to experience bumps, and that shock and discomfort makes its way to the seat, leaving the user with a less comfortable ride.
WHO IS A MID WHEEL DRIVE CHAIR BEST FOR?
Indoor use or areas with narrow, tighter spaces
Anyone with cognitive impairment
Anyone using a chair at mid to lower speeds
At the moment, we don't have any mid wheel drive chairs. Click here to see our range of front and rear wheel drive chairs.
Front Wheel Drive
Last but not least we have powerchairs with front wheel drive. These chairs have a medium turning circumference, so they are great for anyone wanting a chair for both indoor and outdoor use. Having a short front end means turning corners is easy, but manoeuvring in narrow spaces is harder as the backend is longer and gets left behind. Large front tires help to pull a chair over obstacles. Front drives offer the best distribution of weight as compared to mid and rear drives. This is due to the chairs weight being spread out from having the batteries at the back and drive the wheels at the front. This creates great stability for hills and uneven terrain.
For driving at high speeds, front drive is less stable as it can fishtail when turning, as the chair is pulling more weight from behind. If you brake too hard, the chair could also tip forward. For comfort, having larger casters on a front drive, as compared to mid drives, makes the ride smoother, making the chair better for outdoor use. You can also fit shocks to all four wheels, again, creating a smoother ride.
WHO IS A FRONT WHEEL DRIVE CHAIR BEST FOR?
Anyone wanting maximum stability for hills and uneven terrain
Anyone wanting a chair for both indoor and outdoor use
If you'd like to see our chairs with front wheel drive, these include the Kmini & KS1 which can also rotate to rear wheel drive. Click here to view.

Custom Bed Quote

Repayment Calculator

Get in touch
For any online enquiries please don't hesitate to get in touch via the web form below, or email us directly. For any urgent matters, please contact us directly on 08 9242 7333

Subscribe to our latest blogs!
