Six Things To Consider When Purchasing Mobility Equipment - Motobility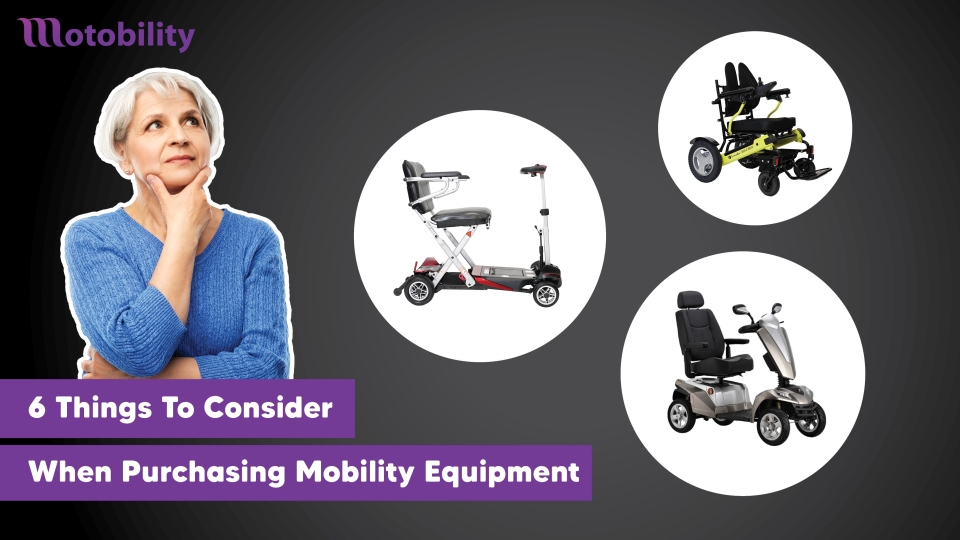 Product Reviews
09 April 2021
Six Things To Consider When Purchasing Mobility Equipment - Motobility
ScootersPowerchairs Travel Scooters
Six Things To Consider When Purchasing Mobility Equipment
They say that when we get older, we make better choices. However, in reality, even if we're all grown up, we sometimes mess up with our decisions. And that is probably because of several variables like personal experience and biases, financial stability and more. And when it comes to mobility equipment that we'll use as we go through our ageing journey, one must make the right choice. Remember that this mobility equipment, whether it's a scooter, an electric wheelchair or a walker, it'll be your best buddy for an extended period.
So when choosing the mobility equipment that suits your needs, here are six reasons that you may want to consider.
Cheap To Run And Charge
Unlike motor vehicles, mobility scooters and powered wheelchairs are electric, and it means that the only running cost will be plugging them into a socket to charge the battery. And the golden rule in every electric-powered device is to power it regularly! The heart or your device is the battery, and it must be used and charged at regular intervals. Most importantly try never to let your batteries go utterly flat as it may cause damage. If you're always away and you have no time to recharge, simply ask someone to do such a task. Fret not, the power source of your precious scooter can't be overcharged.
Easy To Navigate
When you're reaching your old age, be kind to yourself and pick the things that are that easy to navigate. Mobility scooters and power wheelchairs are intuitive and easy to operate and manoeuvre. Before you make a deal with your mobility supplier, take a quick check on your surroundings. You must consider the condition of the walkways, patios and roads in your local area, particularly the hills and terrain and even the battery range. Try and select a machine that has easily adjustable speed control and something that can adapt to your environment.
It Gives You A Sense Of Independence
When you choose to buy a piece of mobility equipment, you know that you're on for a more independent lifestyle! Mobility equipment like electric scooters or power wheelchair cuts your dependence on other people. Isn't it great to know that you can leave your home whenever you want, do errands and shop on your own! It's a good feeling to know that you can move on your own! Completing tasks independently and successfully makes you feel more in control, and that's good, especially for your mental well-being.
Your Location Must Be Equipped
We in Australia are fortunate to live in a country where there is building awareness of mobility and accessibility. Lucky us that most huge public places, shopping centres and public transport options are equipped with ramps and lifts for easy accessibility. Just keep in mind that when you leave the country, do your research about your destination as it may not be the same as where we are.
Engineered For An Injury-Proof Living
Older people are prone to injuries and therefore, must take extra precaution. Using mobility devices can help people with reduced mobility cut the risk of falling or tripping. So when you choose a piece of mobility equipment for your need, it has to be made with high-quality materials for a more sturdy structure. It should also be equipped with the latest technology, so you won't need to break a sweat!
Just A Few Clicks Away
We are all unique in our own way. It is especially true when it comes to mobility devices. So when choosing the right device, always get it from a company that knows anything about mobility. Motobility carries a wide range of different equipment from small travel scooters, to large powerchairs to ensure we can cater for your need. Are you having trouble choosing the right mobility equipment for you? In that case, the staff of Motobility are always there to help with their expanded knowledge about their products with superb customer care. Motobility is within reach and just a few clicks away! Visit their website www.motobility.com.au or call them at these numbers: Osborne Park - 08 9242 7333 or Mandurah - 08 9479 3232.

Custom Bed Quote

Repayment Calculator

Get in touch
For any online enquiries please don't hesitate to get in touch via the web form below, or email us directly. For any urgent matters, please contact us directly on 08 9242 7333

Subscribe to our latest blogs!
