Seven Things To Consider Before Buying A Mobility Scooter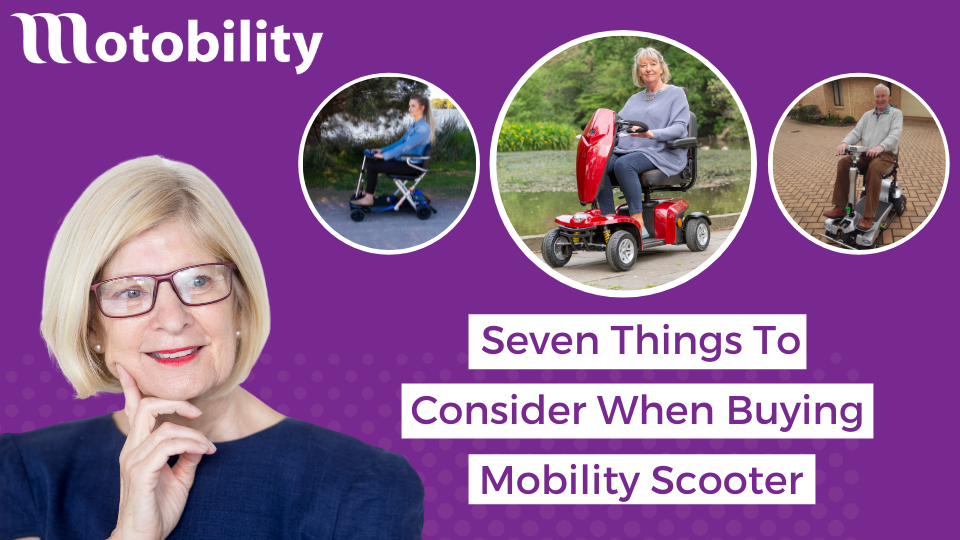 Scooters
10 August 2021
Seven Things To Consider Before Buying A Mobility Scooter
Scooters
Seven Things To Consider Before Buying A Mobility Scooter
When we buy something, we don't just put it in our shopping bag and immediately pay for it at the counter. When we shop, we weigh things up and consider several factors and compare before we purchase. So if we buy something for long term use like mobility scooters, what are the things we should consider?
Which Type of Mobility Scooter Suits My Needs?
When you're buying a mobility scooter, it's going to be for a long time. Thus, you must choose one that suits your needs. Do you have problems with assembling your scooter? Are you a tech-savvy type that likes to use a smartphone? Ask yourself and assess your capabilities. This method will help you figure out which kind of mobility aid would help you achieve your independence.
Where Will You Be Using Your Scooter
A great question to ask yourself is, 'where will I be using my scooter most of the time?' Will it accompany you on your travels and cruise? Will it take you to shops for running errands? Also, consider the environment around your neighbourhood. Is it paved with asphalt roads, or do you deal with several different terrains?
Count Your Wheels
Speaking of terrains and flat roads, the environment you're in will help you decide whether to go with a mobility scooter that has three, four or five wheels. The most common type of gopher comes with four wheels, while the most three-wheeled scooters are lightweight. There are also scooters with a five-wheel design for agility, safety and comfort.
Conduct Your Research
Doing research will help you pick the right mobility scooter for you. There are a lot of resources online that is readily available. You may also check the provider's social media pages and Youtube channel so you can source more information and see the scooters in motion.
Get A Free Demo And Try The Scooter
And if you have decided on which brand or model to take, go ahead and contact the scooter provider and ask if they offer a free demo. It's a deal-breaker, especially when you see and use the scooter in person.
Talk To Experts To Help You Decide
The best place to start is by speaking with an expert. You may talk to an occupational therapist for advice. You may also talk to the experts from your mobility scooter providers and ask for their professional opinion and input on which scooter suits you best.
Get Add-On Accessories
Consider getting add-on accessories to maximise the full potential of your mobility aid. If you like going around town to run errands or to have picnics with family, you may opt for a collapsible basket or a rear bag. If you're always on the go with your travels, an extra battery in tow would definitely go a long way.

Custom Bed Quote

Repayment Calculator

Get in touch
For any online enquiries please don't hesitate to get in touch via the web form below, or email us directly. For any urgent matters, please contact us directly on 08 9242 7333

Subscribe to our latest blogs!
