Seven Sports That Are Good For All Ages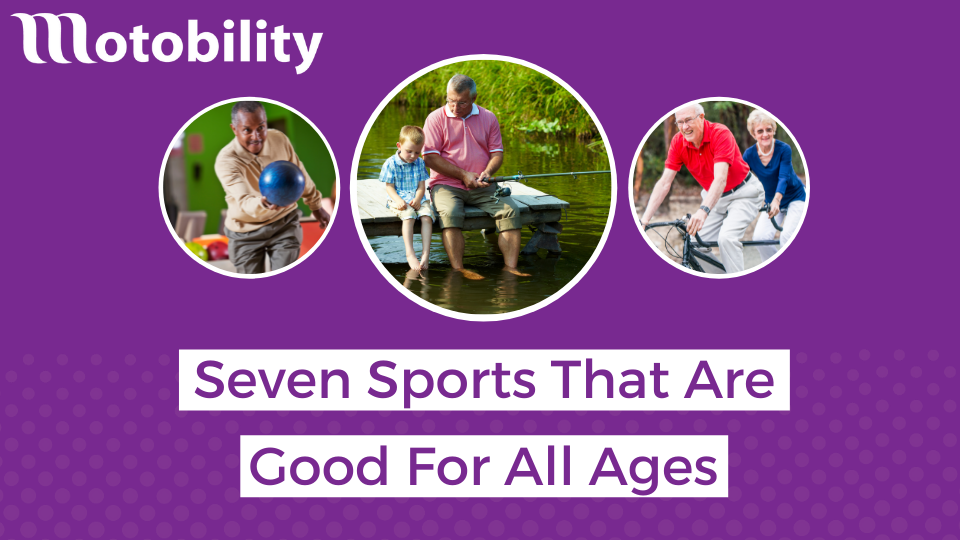 Latest News
30 August 2021
Seven Sports That Are Good For All Ages
Seven Sports That Are Good For All Ages
These days playing sports knows no age. While some sports are typecast into a particular age group or a specific gender, anyone can have fun and be fit while playing their favourite sport. As sport is inclusive, anyone from younger kids to seniors should be able to participate in it. In fact, some sports have been adaptive that even those who are in an electric wheelchair can actually enjoy the game. While different age groups may vary in strength, here are seven great sports that can be enjoyed by kids, teens and even the kids at heart:
Swimming
When you need a workout that is not prone to injuries and has low impact, swimming has become the proper workout for anyone and even those with disabilities. This water sport allows you to gauge the amount of physical effort needed. It is also good for strengthening the heart, improves flexibility and stimulates mental activity.
Bowling
Did you know that an hour of bowling can help you lose at least 250 calories? Bowling is a fun and interactive sport that elders and kids alike can enjoy. It can be considered a good exercise as it requires the whole body to move. Bowling offers great mental stimulation, physical stamina and endurance for any senior.
Biking
Whether on a mountain bike or just a stationary bike, people of any age can enjoy biking as their workout. Biking offers a barrage of health benefits from improving physique, reducing the risk of heart disease and cancer and improving memory. Furthermore, this sport can also be an excellent bond for those who are also biking enthusiasts.
Yoga
Yoga is an inclusive exercise that is ideal for all ages. This exercise can be done with just a mat on the floor or even in a chair. It helps improve the body's flexibility, calms the mind, nurtures one's energy and keeps your hormonal balance in check.
Golf
Golf provides a great social aspect to getting some exercise for those who want to work out outdoors. It offers benefits with mental coordination and physical balance whilst keeping you fit and healthy.
Fishing
Doing recreational fishing not only takes you to the great outdoors to nature, but it also gives you time to unwind and relax. It does not only offer a good workout; it can also be a rewarding activity that stimulates one's cognitive processes. Fishing can also be an ideal bonding activity for family and friends.
Ping Pong
Playing ping pong does not only make your body move, it can also be an excellent way to practice hand-eye coordination. Playing this sport is an exciting way to help you have regular exercise. Furthermore, ping pong is easy to play and does not require too much physical strength. It is also ideal for preventing them from developing dementia, Alzheimer's and other neurological medical conditions.
References:
https://www.sunrisemedical.co.uk/blog/adaptive-wheelchair-sports
https://www.rollingwithoutlimits.com/view-post/15-Accessible-Sports-for-Seniors

Custom Bed Quote

Repayment Calculator

Get in touch
For any online enquiries please don't hesitate to get in touch via the web form below, or email us directly. For any urgent matters, please contact us directly on 08 9242 7333

Subscribe to our latest blogs!
