Best Accessible Destinations in WA 2021 - Part 4 Denmark & Walpole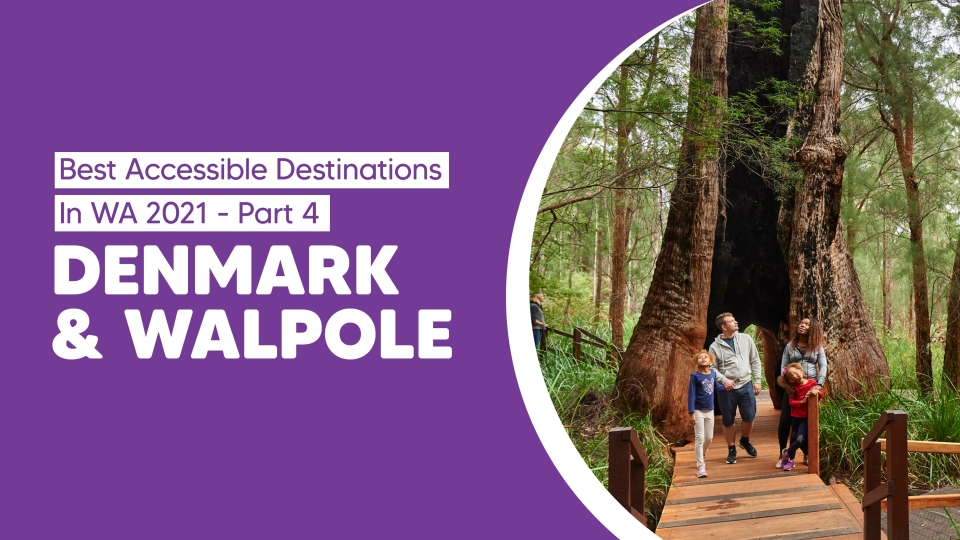 Travel
15 January 2021
Best Accessible Destinations in WA 2021 - Part 4 Denmark & Walpole
PowerchairsTravel Scooters
Our 4th and final piece in our WA- Travel series. In our previous three posts we talked about

1. Kalbarri & The Kalbarri Skywalk

2. Rottnest Island

3. Dunsborough, Bussleton & the Cape to Cape Track

While we already touched on the South West in our previous post, it's just too big and wonderful to fit it all in. So here is our 4th and final piece talking about going even further South.

The Destination

Walpole, Nornalup and surrounds

Valley of the Giants – Tree-top walk, Mount Frankland Wilderness Lookout and Swarbrick

There is so much to see in this beautiful corner of the South West, making it well worth the Trip. Explore the National park, the township and it's quirky artsy side. The highlights include

The Quick Facts:

Located around 430km south of Perth
Near the Frankland River
Part of the Shire of Denmark
Beautiful all year around, but especially to escape the hot summer temperatures
Accessible by two-wheel drive

The Journey &Surrounds:

Depending where you are leaving from, it can be quite a long drive. Most travellers headsouth towards Bunbury before cutting across towards Denmark. Your travels will take you straight through Bridgetown. A beautiful bussling small town. It has been declared a Heritage Town by the National Trust of Australia in 2000, combining a variety of newer buildings and 100-year old structures side by side to form a beautiful townscape. Take the chance to stop here, get some lunch, explore the local shops and stretch your legs, before continuing your journey south.

Valley of the Giants -Tree Top Walk

The tree top walk is a 600m walk located 40m above the ground in the forest canopy. Read about what this traveller had to say about their experience, exploring this destination in a wheelchair.

For more information on access and the facilities you can contact Valley of the Giants Tree Top Walk on 08 9840 8263

Mount Frankland Wilderness Lookout

Enjoy the sweeping views and unitterupted views of Walpole and surrounds. A sealed path leads to a shelter and 80m on you will reach the lookout. For more information you can contact Parks and Wildlifte Service's Walpole on 08 98400400

Swarbrick art loop

THis is an easy 500 walk through the karri forest featuring a selection of exhibits that have been designed to challenge visitors perception wilderness.

Motobility Tip:

Motobilty Pro-trip: Take the hard work out of pushing a manual wheelchair and opt for an electric wheelchair or mobility scooter. Look at some suspension options for extra comfort over bumps.

The Best Products:

Depending on your abilities, preferences and the activites you want to part-take in there are a number of different products to choose from.

Do you like to fish?

Fishability offer a wide range of different fishing experiences including Jetty & Boat fishing in a variety of locations around WA including Perth, Mandurah, Geraldton, Albany and Busselton

Make it the highlight of your tip or add it to your existing trip

Do you want MORE?

Do you want even more? Extend your trip to include Albany and check out the The Gap natural Bridge and the mesmerizing views. Located 40m directly above the surging ocean this is a spectacular view in summer and winter alike.




We hope you have enjoyed our Mini Blog series, please let us know your experiences and thoughts and favourite holiday destinations!

Custom Bed Quote

Repayment Calculator

Get in touch
For any online enquiries please don't hesitate to get in touch via the web form below, or email us directly. For any urgent matters, please contact us directly on 08 9242 7333

Subscribe to our latest blogs!
